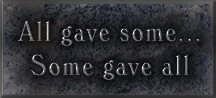 The Site of the Monroe County Vietnam Veterans Memorial
Take a Virtual Tour of Monroe's Pride 'Heck Park'
A web site created for the purpose of returning dog tags found in Vietnam to their respective families
Visit a Great Web Site Dedicated to the Memory of Melvin Carnils Dye
Melvin is Still Missing in Action
Chapter 142 Hall of Presidents
We Honor Our Chapter's Leaders, Past and Present
Chapter 142 Community Calendar, Fund Raisers, Projects, Special Events
Download the Walk of Freedom Brick Purchase Form
Purchase Jackets, Sweat Shirts, T-Shirts, Tank Tops, Flag Cases,
and many other quality items for the Vietnam Veteran
The Chapter 142 Patriotic Music Library
Listen to and Download All of Your Favorite Patriotic Songs in MIDI Format
Chronology of U.S. Involvement in Vietnam
Find Out When the U.S. First Sent Troops to Vietnam
Write Your State Representative
Names and Addresses for All Districts in All 50 States
State of Michigan VVA Council Info Site
Vietnam Veterans Organizations
Take a Virtual Visit Through the Vietnam War
History of the Vietnam War 101
Interactive On-line Discussion Forum on the History of the War in Vietnam
Veterans Helping Veterans
An Employment Resource Service for the Purpose of
"Serving All of Those Who Served"
For Military Women-Those on Active Duty or Not
The Vietnam War Resource Guide
Search for Buddies
The National Vietnam Veterans Memorial in Washington D.C.
Visit "The Wall"
Veterans Organizations and Support Groups
Forum on Post Traumatic Stress Disorder
Question and Answer Forum on PTSD
National Veterans Organization Information Service
U.S. Department of Veteran Affairs
Library of Congress P.O.W./M.I.A. Database
Searchable On-line Database
U.S. Army Veterans Organization
U.S. Marines Veterans Organization
NamVet Newsletter for Vietnam Veterans Reunions
Information on Individual Unit Reunions, Homecomings, Gatherings, Newsletters,
"Finder Services" Resources, and Points of Contact
WWW Locator for Veterans and Friends of Veterans Looking for Other Vietnam Veterans
U.S. Armed Forces Aviation Links Chopper Art, Chopper History
The Vietnam Helicopter Crew Members Association
V.H.C.M.A.
Collects Names and Burial Information of Every American
Who Died While Serving in Uniform
Special Ops, The Men, History, Training, Technology, SF Locator-Active and Former,
SF Mythology, References
Special Operations-Special Forces
General Info, SF Vietnam Memorial, USASOC, History, Units Vet Resources, Ops, Weapons, Specialties, Literature,
Aircraft, Intelligence, Locators, Equipment,
Sign Our Guestbook

View Our Guestbook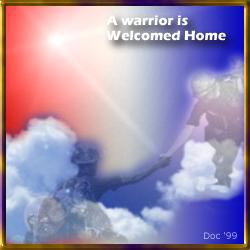 "There is no greater thing than that a man lay down his life for his fellows..."

If you would like to receive by e-mail a copy of the
'Chapter 142 Membership Meeting Minutes'
please take a moment to e-mail your request to
tomtreece@wspd.com or tomtreece@clearchannel.com
The Chapter 142 WWW Site is

by:
trmn8r digital
to Honor Those Heroes Who Served in the United States Armed Forces
and it is continually under construction.
~America~

God Shed His Grace on Thee
---


Go To Next Page
Disclaimer: This website is produced for the Vietnam Veterans of America (VVA) Monroe County Chapter 142. It is updated periodically and may contain articles and statements which are provided by the membership. Permission is hereby granted to reproduce information herein, provided proper credit is given as to the source. The information contained herein are the views of the writer, and may or may not reflect the views of the Webmaster, Chapter 142, State Council or VVA National Headquarters.
(Many thanks to Doc for 'Welcome Home')
©1998 - 2001
trmn8r
and
Vietnam Veterans of America Chapter 142
P.O. Box 1407
Monroe, MI 48161